Tuning into memories
Published: 2022-07-14 17:16:10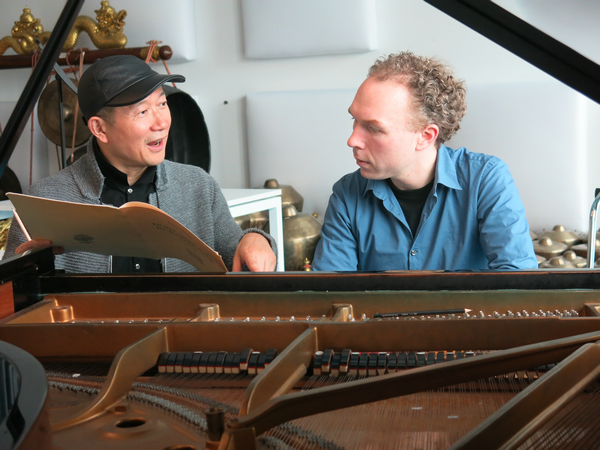 Composer Tan Dun (left) releases the new albumEight Memories in Watercolor, featuring his piano music performed by Dutch pianist Ralph van Raat. [Photo provided to China Daily]
Composer Tan Dun has made a unique mark on the world's music scene with creative works bridging Eastern and Western traditions, as well as pushing the boundaries of classical music, traditional Chinese operas, and multimedia.
The composer released an album on June 10, titledEight Memories in Watercolor, by leading classical music label Naxos. Featuring six piano works composed by Tan, the album is performed by Dutch pianist Ralph van Raat.
"I am very proud of these piano works, which are like my diaries from the days that I started to learn to compose to the most recent one or two years," says Tan. "The album comes about the right time when we live amid the pandemic. These music pieces provide people with comfort."
The opening piece, which is also the titled piece,Eight Memories in Watercolor, was written by Tan in 1978, about the time when he left his hometown in Hunan province to study at the Central Conservatory of Music in Beijing. He was among the first group of students admitted to the music school when it reopened in 1978.
He was homesick, and wrote this piece as a diary to express his longing for his hometown while being immersed in studying Western classical and contemporary music.
"Now, when I listen to this music piece, I can still sense the freshness and feel touched. There are many portrayals of the actual scenery of my hometown, which are the best memories of my younger days," says Tan, 64, adding that he uses the word "watercolor" to imply visual inspiration of his hometown.